Owners of a start-up company in Coquitlam have discovered cutting down on plastic isn't just good for the environment; it can directly help the poor and homeless, too.
Vanessa Brascia and Cory Melville officially opened Straw-Ghetti in February. Their company imports Italian pasta, cuts it to size, and sells it as an eco-friendly substitute for plastic straws. The pasta leaves no residue and lasts longer in a drink than other plastic straw alternatives.
But cutting raw pasta down to cocktail or regular straw sizes results in a lot of waste. Over the last several months, they have packaged hundreds of thousands of straws, resulting in about 100 pounds of awkwardly shaped pieces of pasta. They ate some and gave more away to friends and family, but were still left with more than 50 pounds of uncooked Italian goodness.
Deciding to donate the leftover pasta, they were quickly connected to The Door is Open, the Archdiocese of Vancouver's drop-in centre for the poor and homeless in the Downtown Eastside.
Feeding the hungry
The pasta "will definitely go into use," said Frances Cabahug, co-manager at The Door is Open. Her organization serves approximately 250 servings of hot food every day, 365 days a year. These daily free lunches usually include a sandwich and a soup, and the soup almost always contains pasta.
The Door is Open often receives donations of vegetables or bread, but Brascia and Melville's delivery of 50 pounds of pasta was a first, said Cabahug.
As they walked in with a large container, the Straw-Ghetti duo saw needy men and women with scraggly hair and dirty clothing standing in line waiting for a free meal. It meant a lot to them to see who their donation would impact.
"It's rewarding," said Melville, who began a habit of giving to the poor years ago while donating untouched leftovers from his cousin's catering business. "Instead of just tossing things away, it can go to somebody less fortunate, that can actually use it, and who needs it."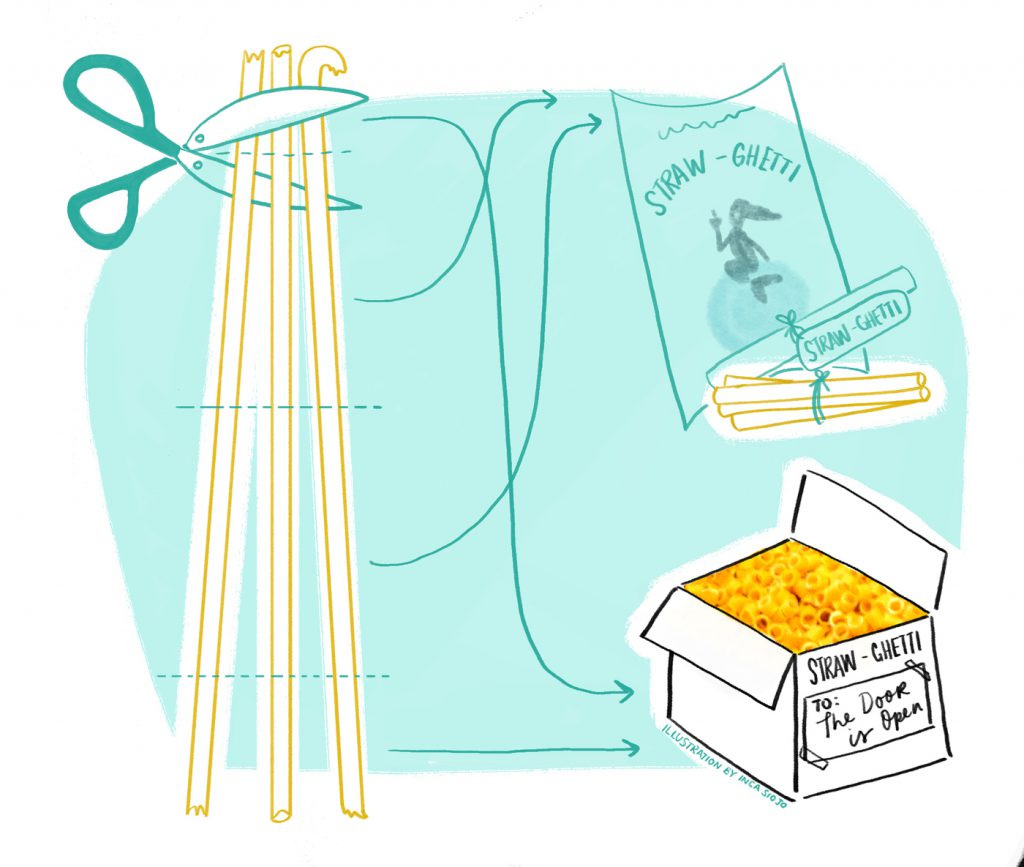 Cabahug was quick to add that Pope Francis' 2015 encyclical Laudato Si' emphasizes care for the planet includes care for the people living on it.
Contrary to "the throwaway culture," she said, "we can be more conscious about the people we help and make (the planet) better for everyone."
The Pope's Laudato Si' has inspired many Catholics to think a bit more about the environment. They've made significant changes, including at The Door is Open.
Click on the image below to read the full article:
Article by Agnieszka Ruck, The B.C. Catholic (June 25, 2019)