After missing a year because of the pandemic it was wonderful to welcome back Lynda Perovich and her enthusiastic group of volunteers for their annual beef chili lunch service (is this the 15th year already?!) This is a day when the regular staff can sit back and relax as Lynda's team takes care of everything from shopping, meal preparation and serving, to cleanup.
Lynda's love of volunteering goes back many years to when her children were little and she and her family volunteered to assist with roasting turkeys for a local church's Christmas outreach program. She shares many comical memories of roasting ten turkeys at the same time by 'borrowing' ovens in her neighbours' homes. Inspired by this experience, she proposed to her employer, Molson Coors, that she would amend their team building exercises to 'team meal preparation for local charities'. Molson Coors generously financed the program and her colleagues loved being involved. One of her friends introduced her to Julia, then manager at The Door is Open, and this became an annual and much-loved event. Since retiring a couple of years ago, and after missing a year because of the pandemic, Lynda decided that she would continue the tradition which she had started. Assembling 3 of her 'old' colleagues from Molson Coors (Alisha Mills, Marina Andrew and Maureen Rumley) and inviting 5 friends, (Julie Gilbert, Vicky Goode, Ali Gardiner, Alexandra Wheatley and Kim Aelicks) from her neighbourhood, she organized them to jointly sponsor (along with donations from her book club) a shopping trip to Superstore in North Vancouver to buy all the ingredients to make 300 beef chili meals. The staff at Superstore were intrigued by the sheer volume of her purchase and after hearing Lynda's explanation, made every effort to facilitate the process – from offering a gift card, to offering to pull all the items for her and holding them ready for pickup on the morning of the cooking day, which spared Lynda and her team the trouble of storing 70 lbs of ground beef, and everything else on the shopping list!
For some of Lynda's team it was their first visit to DIO, for others and for Lynda it was like 'coming home'. For all of them it was a busy, fun, and productive morning. We look forward to many more meals from this generous group.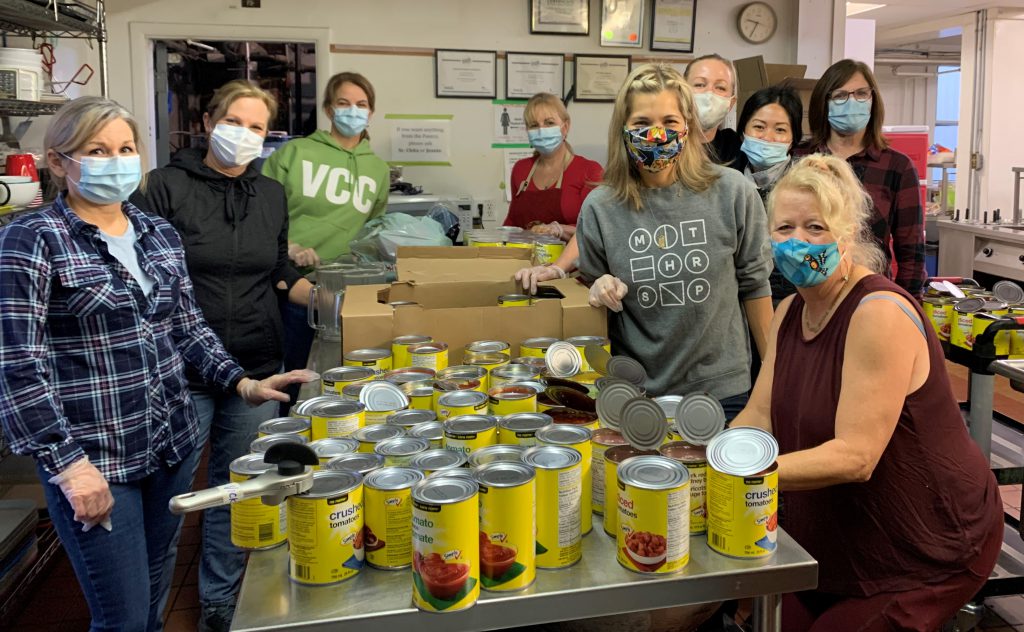 Lynda offered her shopping list/recipe in case any other groups would like to cook up a similar meal:
7 x 100 oz cans Crushed Tomatoes
7 x 100 oz cans Diced Tomatoes
1 x 100 oz cans Kidney Beans
1 x 100 oz Canned Corn
1 can Tomato Paste
1 package Garlic Powder
1 package Chili Powder
10 Bay leaves
1 package Oregano
300 Bread Rolls
70 lbs Ground Beef
10 Onions
2 heads of Garlic
12 Green Peppers
3 bags mixed Red, Orange, Yellow Peppers
2 bags Carrots
Powered beverage (Juice or Iced Tea)
Mandarin Oranges, Cookies, Candy for treat bags
300 Paper Bags
300 disposable bowls, plates, spoons/forks
box Plastic gloves
---