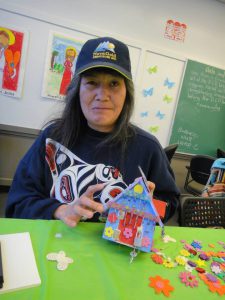 About Selina
Selina has been coming to The Door is Open for over ten years. She enjoys the arts and crafts program to which she brings her own distinctive style influenced by her Nisga'a heritage. She has a great love of writing and has written many poems. A number of her poems have been bound into a series of three books for her personal library and she hopes to be able to publish some of her poetry in the future to share her creativity with others.
She appreciates the safe environment offered by The Door is Open, and has shared many of her poems with us. This is one of her favourites.
Our People
Creator, lift up our people's hearts
Let them know they can make a new start
There is more to life than what's on the street
As that is so bleak
May our prayers be heard to those who wish to listen
Let their minds be open to a new way of thinking
As there are too many ships that are sinking
Look them in the eyes and tell them like it is
"To let go of their fears"
Talent is being wasted and my mouth can taste it
Creator, let us start to paste it.